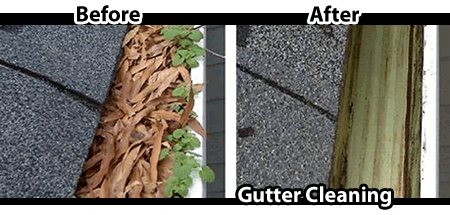 When was the last time your Eavestoughs & Down Spouts were thoroughly cleaned and flushed?
Oakville Gutter Cleaning's premium Gutter & Down Spout Cleaning is designed to ensure that you have proper drainage.
Cleaning of the roof, rain gutters and downspouts is a critical part of prudent, annual maintenance. Our programs allow the entire gutter system to function and achieve its maximum life expectancy. All rain gutters are cleaned from the ground with our state of the art gutter vac technology and each downspout is fished to remove any blockage and checked from ground level to assure proper flow.
Get Your

Instant

Oakville Gutter Cleaning Quote
Our Guarantee for Clean Gutters… We guarantee that all rain gutters will operate and drain properly for first storm after service. If any clogging or overflow is observed during that first rain, give us a call and a serviceman will return to job site free of charge and remove the blockage.
Customers could avoid paying thousands of dollars for these types of Oakville gutter repairs by taking the time to properly clean and maintain Gutters & Down Spouts. This can double or even triple the life of your roof drainage system.

Protect Your Investment in Your Home with Regular Gutter Cleaning by Oakville Gutter Cleaning