Gutter Brightening is now included as part of our house wash service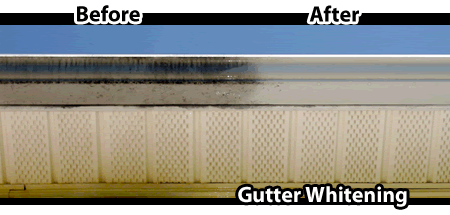 Professional gutter whitening services are offered by Oakville Window Washing & Power washing, a leading Ontario contractor. We are licensed and insured.
Freshly cleaned white gutters and a professionally cleaned roof are a great way to beautify the exterior of your home without spending a fortune.
The Importance of Professional Gutter Cleanout & Maintenance
Properly maintaining your home's gutters has more value than just the aesthetics of your home's appearance. Clean gutters also serve to prevent water from finding its way into your home and causing extensive damage. One job of your gutters is to collect the rain from the roof and direct it to the down spouts away from your home.
We offer Gutter Cleanout & Gutter Whitening Services in Oakville, Burlington & Oakville
Don't put your home or business at risk by hiring uninsured or inexperienced gutter cleaners. Ask for copies of their business insurance.